NAVIGATING THE HURDLES OF APPLICANT TRACKING SYSTEM (ATS)
Introduction
Imagine finding your dream job opportunity, spending hours tailoring your resume and cover letter to the role, and submitting your application full of hopes that it'll earn you an interview invite. But, while waiting for feedback, hours turned into days, days into weeks, yet nothing. Then, it dawned on you that your resume didn't cut. At some point when you'd already moved on, you got an automated email confirming what you already knew – you didn't make it! How would you feel?
While this scenario is better left to the imagination for some people, it's, unfortunately, the reality of a significant proportion of job seekers. Many of us have gone through a similar situation more times than we can count, and we're always left wondering where things went wrong. "I tailored my CV to the role," "I had all the qualities!" etc., are usually some of our go-to statements when we encounter such a situation.
Only a few job seekers know that there's more to getting interview invites than sending a well-designed resume and cover letter. Many don't realize that resumes sent for job applications hardly ever make their way to the hands of recruiters – studies have shown that a whopping 75% of job applications are kicked out even before human eyes see them.
What is ATS?
An applicant tracking system (ATS) is a human resources (HR) software that acts as a database for job applicants. ATS are used by companies of all sizes to organize, search, and communicate with large groups of applicants. It's estimated that 99% of Fortune 500 companies use an ATS as part of their recruiting strategy. The market size of applicant tracking system companies is reportedly in the 350 range, though many of them have only a few hundred clients. The most common ATS are Workday, Taleo Recruiting, Greenhouse, BambooHR, eRecruiter, LinkedIn Recruiter, Smart Recruiter, etc.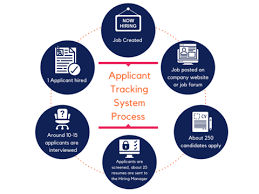 How the ATS Works?
You can regard the applicant tracking system as an electronic gatekeeper to recruiters and employers. It filters out job applications that it deems not good enough for the role (based on set algorithms) and ensures the recruiters end up with the best candidates.
The tool parses the content of a CV or resume and categorizes it, after which it scans it for keywords specific to the role to know if the application is qualified enough to make it to the recruiter. Applications that it finds qualified find their way to the recruiters while those that fall short of the requirements get weeded out.
Here are some tips on how to beat applicant tracking systems:
1. Tailor your CV to the job description
Generic CVs do not work well in the modern era. You need to customize your CV for each job to give you the best chance of being identified as a fit for the job. Tailor and tweak your CV headline to match the role, edit job titles and prioritize your most relevant skills and experience.
2. Match your CV keywords to the skills found in the job description
Optimize for ATS search and ranking algorithms by paying close attention to keywords you include on your CV. Keywords are most commonly the hardskills requirements listed in the job description. Include as many relevant skills and keywords as possible on your CV.
3. Use long form and acronym versions of keywords
Recruiters and hiring managers may search by keywords when looking for candidates. Some ATS will only return exact keyword match results. For example… if you included the term "Project Management Office" without its acronym counterpart, your profile may not appear in a recruiter's search for the term "PMO."
4. Don't use tables or columns
Even though tables and columns can improve readability for human readers, they may cause parsing errors in the ATS. If using columns make sure its within 1 section so that the information stays together. Do not split pages in half or use fancy sidebars.
5. Use a chronological format
Formats that deemphasize work history, like the functional CV format, don't work well for applicant tracking systems that count on more traditional reverse chronological formatting to understand an applicant's experience. Recruiters are also most familiar with chronological and hybrid resume formats.
6. Use a screen friendly traditional font
For readability, it's best to use a traditional serif or sans serif font. Some ATS will automatically change unfamiliar fonts which can alter the design of your resume. I suggest you use Garamond, Calibri, Cambria, Georgia, Helvetica, Times New Roman, Arial, Palatino, Tahoma or Verdana for the best results.
7. Use standard CV section titles
Section headers like "Where I've Been" in place of "Work Experience" may confuse applicant tracking systems, causing them to organize information incorrectly. I suggest using the following titles: Personal Details, Summary / Profile / Key Skills / Achievements or Accomplishments, Work Experience, Education / Qualifications, Training / Certifications, Volunteer Work, Awards and Honours, Publications, etc.
8. Don't use headers and footers
The information in headers and footers may get lost or cause parsing errors inside and ATS. Do not put anything important in a header or footer.
9. Save your file as a doc.x
A docx file is most compatible with most ATS.
Conclusion
The applicant tracking system has become a commonplace tool for recruiters and hiring managers to get the best talents for their job openings. As an applicant, beating the system must be your focus, as it's what guarantees you are getting invited for interviews. For a top-notch, optimized, ATS-friendly CV, simply send us a mail at team@techhireng.com and one of our professionals will reach out to you.